PRIESTESS TEMPLE SCHOOL
Mistress Mind
WITH SORA SURYA NO + JULIE PARKER
A 6-Month Online Sacred Priestess Journey + Initiation
February 2020 - August 2020
Enter the mystical + divine path of the Priestess.
Uncover your feminine spiritual gifts in a 6 month journey with devoted modern Priestesses + sacred leaders Julie Parker + Sora Surya No.
Deepen or begin your relationship with the Goddess, the Wheel of the Year, earth magick + your power as a ceremonialist.
Dive into the rich + dark world of your shadow + core wounds. Transform your ego into a soul path filled with clarity, confidence + true embodied power.
Connect deeply with a global sisterhood of extraordinary women. Heal. Transcend.
Embody your potent personal medicine through gentleness + strength, humility + courage.
Enjoy connection, soulful relationships, mystical experiences, earth connection, fun + love.
A deep knowing or gentle calling to the beautiful and sacred world of the priestess has guided you here.
You may be a healer, guide, sacred circle holder or coach looking to deepen your feminine self and spirit and how you can bring forth those qualities within to be in the most reverent service to yourself and others.
You may be simply soulfully curious about the world of the priestess and looking to open your heart to what may be possible for you in your awakening and spiritual path as a modern woman.
Wherever you may be in your spiritual and life journey - welcome sister. We are so honoured to have you here with us.
You are feeling a devotion to Mother Earth and the Goddess that has likely been with you for thousands of years. And you are longing to feel Her beauty and strength to be with you in all you do as a spiritual leader, guide, coach, teacher or healer.
As the archetype of the priestess as spiritual leader re-emerges, women are once again feeling the call to honor their intuition, connect with their bodies, and awaken their spirits. You desire to be guided by your soul to remember the wisdom of all the women before you who have made it possible for you to be right here in this moment with the full desire you have to step into your light and change the world.
"This may sound a bit stereotypical but it is nonetheless true: joining the Priestess Temple School is the best decision I've ever made. I have done numerous courses in the past but none has been as comprehensive and life changing as the Priestess Mistress Mind.

Julie and Sora have created a safe environment where I know I won't be judged and where I can walk my own path, guided and supported by my sisters. Walking this path is not always easy, but it is made easier when you have the sacred community that Julie and Sora have created with the Priestess Temple School.

Each month, with each new worksheet, I uncover a bit more of who I am and what being a priestess means to me. Sora and Julie have so much knowledge and wisdom, and provide us with so many 'tools'. We are encouraged to try each one but only keep it in our medicine bag as long as it resonates with us. And that's what makes the Priestess Temple School so different for me; I am in control of my own path. I am not being dictated who to be or what a priestess should be."

— Emilie
Your Priestess Temple Awaits You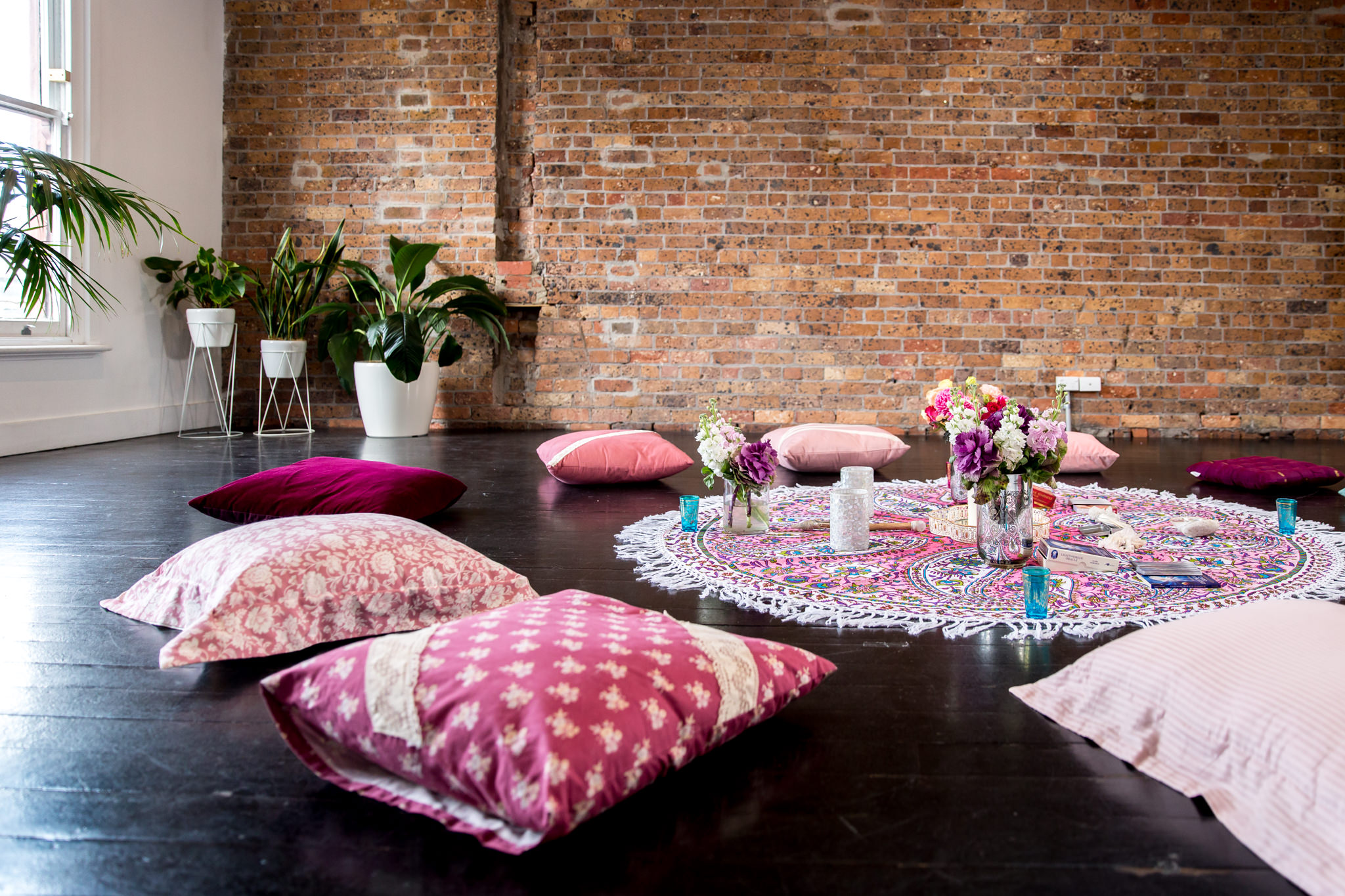 The Priestess Temple School Mistress Mind Includes
• 6 x Group Calls (Monthly)
• 6 x Intimate Sister Group Calls (Monthly)
• Private Facebook Group
• Guest Priestess Interviews
• Priestess Temple School Online Course
• Option for Hawaii Retreat April 2020
The Phases of the Mistress Mind Experience
"When you're open to the calling of the Universe, the Universe will speak to you. However, the Universe only shows you the door, you still have to commit and walk through. The Priestess Temple School was my door and showing up for myself and my Sister Priestesses was at the start a challenge. Fear of being seen, who am I to claim the title of Priestess? all flooded through me. Throughout the months of fellowship, we have journeyed through challenges, and deep revelations of our calling and as the wheel of fortune turns there has been joy, calming peace, laughter and magickal expansion of all of us, individually and collectively. The Temple School is a sisterhood of Modern Priestesses all committed to doing spiritual work that is very much needed in this modern world. In this, the Universe is leading you as it did me to discover the most wonderful treasures and a deeper connection to the divine feminine."

— Jennifer Freely
The Priestess Temple School Mistress Mind includes an online training.

Monthly Modules Include:
You as Priestess
Your Personal Definition of Priestess

Your Guiding Goddess Meditation

Your Sacred Archetype Blueprint
The Beauty of Your Shadow
Transcending Your Wounds

Healing the Sister Wound

Social Norms vs Soul Essence
Your Priestess Lineage
Honouring and Exploring Your Culture

Culture and Spiritual Practice

Sacred Priestess Practice
Your Personal Sacred Practice

What Will You Have Me Do Meditation

Altar Craft

Honouring Cycles and Seasons
The Wheel of the Year and Earth Medicine

Connecting to Land Meditation

Blood and Lunar Cycles

Practical Priestessing
Empty Presence and Holding Space

The Art of Sacred Circle

Intentional Ritual Creation

Embodiment Practices for Your Soul's Essence

Sacred Leadership
Your Spiritual Beliefs and Values

The Path of Humility

Social Consciousness and The Warrior Woman

Owning Your Priestess Gifts

The Priestess Path
Your Priestess Commitment and Calling

Goddess Guidance for Life

Your Modern Priestess Vow
"What an honour it has been so far to walk this path with my beautiful sisters from all over the world, guided and held by the incomparable Julie and Sora. I have so much love, gratitude and admiration for these two extraordinary women. Stepping into your power as a Priestess brings another dimension to life and so much depth to your spiritual practice. The opportunity to recognise, honour and explore my shadow has been so nourishing, as I have felt heard, seen and supported by my sisters as whole. What I have learnt has connected me deeper to Mama Earth and to myself, and allowed me to see where my gifts are best used in the world. If you have been yearning to find women who are willing to walk this journey with you, and hungry to learn more about your path as a Priestess, I could not recommend the Priestess Temple School more."

— Bec Coldicutt
Meet your Sacred Priestess
Space Holders
Your Priestess Temple Space Holders
Sora Surya No
Sora Surya No is a sacred space holder, badass sorceress, transformative business coach, intuitive mentor, international retreat leader, inspirational speaker, fire igniter, heart whisperer, + world traveler. Sora loves to sit in ceremony with sisters + share the art of holding circle. She leads women through powerful experiences in her mastermind + on retreats.
Sora blends real world experience with mystical transformation, ritualistic practices, inner reflection, + deepening community to help soulful feminine leaders create great impact while Priestessing their life. Sora Surya No's unique approach brings her clients a resounding level of clarity around how they are being called upon to serve in the world. Through ritual and sacred practice, Sora shows women how they can use magic everyday for what they would like to create for themselves.
You can find out more about Sora and her work at www.sorasuryano.com
Julie Parker
Hailed by ELLE Magazine as a 'self-help guru,' Julie Parker is the Founder of The Beautiful You Coaching Academy where she passionately trains + supports heart centered people to become life coaches. The Editor in Chief of inspired COACH Magazine, a published author, Priestess Podcast host + in demand speaker, Julie has inspired thousands of people on stages all over the world and is the recipient of numerous leadership + women's business awards.
Julie is also a modern day Priestess with a focus on her Celtic, Greek & Balkan lineage. She is committed to contributing to a world where qualities of intuition, presence, nurturing, spiritual exploration, social justice + service are honoured. Julie is currently undertaking intensive training to become a Priestess of the Magdalene + she holds sacred circles in honour of the Goddess + Wheel of the Year regularly. She is currently writing a book on the modern Priestess. You can find out more about Julie + her work at www.juliesuzanneparker.com
"Witnessing the sisterhood between Sora & Julie is in and of itself a deeply healing and spiritual experience, a living example of what's possible when we commit to healing our sister wounding. Guided by these incredible women I was able to connect with myself and like-minded sisters as we contemplated what the term "priestess" really means for us all and how we can seek to bring spirituality, ritual and deep meaning to all we do in our modern lives. So potent and safe was this space, I was able to articulate for the first time the dream and vision for my business, and what I feel is my true life purpose, and I attribute much of its initial success to it being birthed in such a special way. A truly life changing experience with flow on impacts I continue to feel, as my connection to the goddess, mother earth, devotion and my own journey as a Priestess deepens."

— Bron Stange
"Priestess Temple School was heart-opening, inspiring, nourishing and so much more! Sora and Julie teach a new form of sacred leadership; one that is steeped in sisterhood, liberation and empowerment. Saying yes was one of the best decisions I've ever made! They helped me step into my power and gave me the tools and wisdom to begin my own Priestess journey."

— Jade Head
We invite you to join us for the Priestess Temple School Mistress Mind
Investment:
$1999 USD Full Payment
Payment Plan:
Deposit $500 USD + 6 monthly payments x $299 USD
We start February 2020
Australia AEDT/AEST:
February 20th 10am-11.30am AEDT
March 19th 10am-11.30am AEDT
May 21st 10am-11.30am AEST
June 18th 10am-11.30am AEST
July 23rd 10am-11.30am AEST
August 20th 10am-11.30am AEST
United States EDT/EST:
February 19th 6pm-7.30pm EST
March 18th 7pm-8.30pm EDT
May 20th 8pm-9.30pm EDT
June 17th 8pm-9.30pm EDT
July 22th 8pm-9.30pm EDT
August 19th 8pm-9.30pm EDT
Please note differences in times due to Daylight Savings
"Wow! what can one say!! Priestess Mistress Mind Blew my mind! It was everything and more than I thought it would be, and the beautiful Julie and Sora shared so much wisdom, magic and held us all beautifully as we moved and flowed through our ever changing journey.

For myself as the Awakening Priestess, finally I was given permission by myself, and by other sisters to just be me, and explore myself, my magic while being greatly supported by the sacred container and fellow sisters. What I learnt on this journey was so more deeper than I thought I would ever experience. For the first time I said YES to all of me, and stopped hiding. And owned my gifts and magic with apologizing.

And through this journey that was forever evolving and blooming like a rose opening, I realized Awakening Priestess was really my soul's right. To not only give my self permission to rise up and own my magic, but to hold other sisters in that same space to touch, and experience there own magic and gifts.

I cant express how Priestess Mistress Mind has changed me, and made me finally feel that not only do I belong, but I belong to a sisterhood of great Priestesses that are here to embarked change in the world. And for that alone brings a deep sense of grounding within my soul and being."

— Lilly
Optional
Sacred Priestess Retreat
Hawaii, United States
April 20-23rd, 2020
Accommodation:
Shared House
Retreat Experiences:
• Honoring the Divine Feminine Within
• Deeper Goddess Connection
• Embodiment of the Warrior Archetype
• Water Blessing Ceremony
• Sacred Circles
Investment:
$2000 USD
Priestess Temple Prayer

Modern Priestesses are born from
Stardust and Moonlight.
They are activated during times of destruction.
They are forged in battle,
awoken in chaos,
birthed in times of despair
Priestesses are created with fierce intention
molded through intense dedication,
shaped by passionate action
Modern Priestesses are not taught,
they are shown what is already possessed
opening up to their power
introduced to their truest essence
Modern Priestesses do not journey alone
They gather together in sacred ceremony
journey together to sacred lands
live together in sacred community
The Priestess inside, she is waiting to be awakened.
Frequently Asked Questions
When does Priestess Temple School Mistress Mind begin and how long is it?
This sacred journey begins February 2020 and lasts for 6 months.

How many hours do I need to dedicate weekly if I desire to embody the archetype of the Priestess?
As with all spiritual practices, you will receive blessings from the Goddess and divine clarity if you immerse yourself in the material. We encourage you to tap into the frequency of devotion and commit to completing the course. More importantly, to learn, experience and embody the practices.
The exercises will only take you 2-3 hours to complete but being aware of the lessons and navigating life as the embodiment of a Priestess is a life-long practice.

What if I am unsure about the Priestess path?
That is fine, dear one. Sisters are on different resting points on this journey and many of us began with the question, "what is a priestess and am I one?" If you are here, welcome.
For others, you find you feel so aligned with the word and desire to understand why you feel you are one. The question you are sitting with is, "I am a priestess but what does that mean?" If you are here, it's time to remember.

How much does the Priestess Temple School Mistress Mind cost?
The Mistress Mind experience is 1 full payment of $1999 USD, or a deposit $500 USD with 6 monthly payments of $299 USD.
We believe in the magic of the Mistress Mind. With the years of experience and knowledge that Julie and Sora have combined, this beautiful offering was conceived. We will not be negotiating the price, providing discounts, or tailoring any installment plans. We believe all of our Priestesses are sovereign beings who take responsibility of their journey. We know that they will save, invest, and share the priestess work with others when the time is right.

Do you have a refund policy?
Priestess Temple School Mistress Mind is an initiation and and energetic commitment. It activates your personal journey as a priestesses. Therefore there will be no refunds once you register. Your access to the course will not end, therefore, the materials may be incredibly useful to you in the future.

How can I contact you?
If you have any technical difficulties, need to update your payment information, or find there is a glitch in the course, please contact us here.

We invite you to join us for the Priestess Temple School Mistress Mind
Investment:
$1999 USD Full Payment
Payment Plan:
Deposit $500 USD + 6 monthly payments x $299 USD
We start February 2020